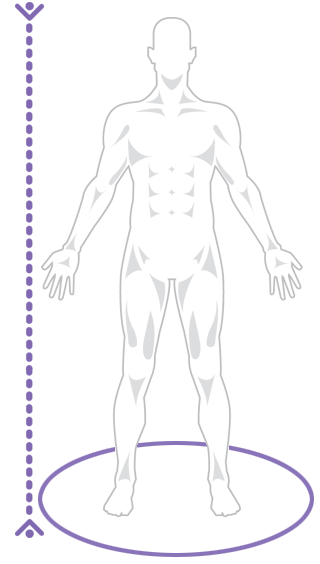 24.46
Normal
> 39.9 C3 Obese
34.9-39.9 C2 Obese
29.9-34.9 C1 Obese
24.9-29.9 Overweight
18.5-24.9 Normal
16.5-18.5 Underweight
< 16.5 Severely Underweight
Body Mass Index (BMI) is a widely used and valuable tool in assessing an individual's body weight in relation to their height. While BMI is a convenient measure, it is essential to recognize its limitations, particularly in directly measuring body fat. In this article, we will explore the concept of BMI, its benefits, and how it relates to body fat, offering a more comprehensive understanding of its role in health assessment.
What is Body Mass Index (BMI)?
BMI is a numerical value calculated from a person's weight and height. While BMI provides a quick assessment of weight status, it does not distinguish between fat and lean body mass. The formula for BMI is:
The Relationship between BMI and Body Fat
BMI serves as an indirect measure of body fat, offering a general indication of whether an individual falls into categories such as underweight, normal weight, overweight, or obese. However, it is crucial to note that BMI does not differentiate between fat and muscle mass, and individuals with the same BMI may have different body compositions.
The formula to calculate Body Fat is based on your BMI but also includes your age and a slight modification based on your gender.
> 25.0 Obese
18.0-25.0 Average
14.0-18.0 Fitness
6.0-14.0 Athletes
< 6.0 Essential fat
The Influence of Age and Body Fat
Children and adolescents undergo different growth phases, and BMI (or by reference Body Fat) percentiles are used to compare their BMI to others of the same age and sex. In adults, while the general BMI categories remain consistent, the interpretation may differ based on age-related changes in body composition.
The below interactive table represents your Body Fat at various Age levels.
 
 

Age

15
-20
23
-12
29
-6
33
-2
35
37
2
41
6
47
12
55
20
155.0
-20.0
13.25
Athletes
15.09
Fitness
16.47
Fitness
17.39
Fitness
17.85
Fitness
18.31
Average
19.23
Average
20.61
Average
22.45
Average
163.0
-12.0
14.59
Fitness
16.43
Fitness
17.81
Fitness
18.73
Average
19.19
Average
19.65
Average
20.57
Average
21.95
Average
23.79
Average
169.0
-6.0
15.59
Fitness
17.43
Fitness
18.81
Average
19.73
Average
20.19
Average
20.65
Average
21.57
Average
22.95
Average
24.79
Average
173.0
-2.0
16.26
Fitness
18.1
Average
19.48
Average
20.4
Average
20.86
Average
21.32
Average
22.24
Average
23.62
Average
25.46
Obese
175.0
16.6
Fitness
18.44
Average
19.82
Average
20.74
Average
21.2
Average
21.66
Average
22.58
Average
23.96
Average
25.8
Obese
177.0
2.0
16.94
Fitness
18.78
Average
20.16
Average
21.08
Average
21.54
Average
22.0
Average
22.92
Average
24.3
Average
26.14
Obese
181.0
6.0
17.61
Fitness
19.45
Average
20.83
Average
21.75
Average
22.21
Average
22.67
Average
23.59
Average
24.97
Average
26.81
Obese
187.0
12.0
18.61
Average
20.45
Average
21.83
Average
22.75
Average
23.21
Average
23.67
Average
24.59
Average
25.97
Obese
27.81
Obese
195.0
20.0
19.95
Average
21.79
Average
23.17
Average
24.09
Average
24.55
Average
25.01
Obese
25.93
Obese
27.31
Obese
29.15
Obese
Ease of Calculating
While calculating body fat from weight has become more accessible with the advent of technology and user-friendly tools like BIA scales and online calculators, it's crucial to note that the ease of measurement doesn't always guarantee optimal accuracy. These methods often rely on generalized formulas and assumptions, neglecting individual variations in factors like muscle mass, distribution, and overall body composition. As a result, while these tools provide a quick estimate of body fat percentage, they may not always deliver precision.
| | | | |
| --- | --- | --- | --- |
| Based On | Weight | Tape Measure | Skinfold |
| Measurement Complexity | Very Easy | Easy | Difficult |
| Accuracy/Precision | Low | Medium | High |
| Best Suited For | Non-Active Person | Active Enthusiast | Athlete |
Leverage any of our other body fat calculators or body composition calculators for more accurate information.
Benefits of Body Mass Index (BMI) in Assessing Health
Quick Assessment of Weight Status: BMI provides a rapid and accessible way to assess weight status. It serves as a useful initial screening tool for potential weight-related health issues.
Identification of Health Risks: High BMI has been correlated with an increased risk of various health conditions, including heart disease, diabetes, and certain cancers. While BMI is not a definitive diagnostic tool, it can help identify individuals at a higher risk, prompting further evaluation.
Monitoring Weight Changes: BMI is valuable for tracking changes in weight over time. Regular assessments enable individuals and healthcare providers to monitor the effectiveness of weight management strategies and identify potential concerns.
Understanding Body Composition: While BMI does not directly measure body fat, it can prompt a discussion about the importance of body composition. Combining BMI with other assessments, such as waist circumference or body fat percentage measurements, offers a more comprehensive view of health.
Informed Treatment Decisions: BMI, in conjunction with other health indicators, guides healthcare professionals in making informed decisions about treatment plans. It contributes to tailoring interventions based on an individual's overall health status.
Setting Realistic Health Goals: BMI provides a baseline for setting achievable health goals. When coupled with assessments of body fat and muscle mass, it helps individuals create personalized plans focused on achieving a healthy and balanced body composition.
Conclusion
Body Mass Index plays a crucial role in health assessment, offering a quick and accessible measure of weight status. While BMI provides valuable insights, its limitations highlight the importance of considering body composition, especially the distribution of fat and muscle. Integrating BMI with additional assessments enhances its effectiveness in guiding individuals and healthcare professionals toward a more comprehensive understanding of health and well-being. Regular monitoring of BMI, coupled with a holistic approach to body composition, empowers individuals to make informed decisions about their health and strive for a balanced and sustainable lifestyle.