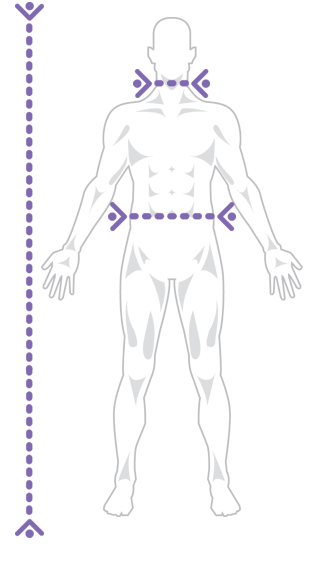 11.82%
Body Fat (Athletes)
> 25.0 Obese
18.0-25.0 Average
14.0-18.0 Fitness
6.0-14.0 Athletes
< 6.0 Essential fat
This formula applies to males only.
In the realm of military fitness assessment, body fat percentage is a critical metric that can significantly impact an individual's performance and overall health. Among the various methods employed by the military, the Army Friedl Method stands out as a specialized approach that was developed to cater specifically to the needs of active military personnel. While not officially integrated into military protocols, this method has garnered attention due to its origins in research aimed at refining body fat estimation formulas, particularly for male individuals. In this article, we delve into the origins, methodology, and applicability of the Army Friedl Method, shedding light on its role in the realm of military fitness assessment.
The Genesis of the Army Friedl Method
The Army Friedl Method is a testament to the military's commitment to precision and efficiency in evaluating the fitness of its personnel. Dr. Karl Friedl, a researcher with a focus on military health and performance, played a pivotal role in the development of this method. It emerged as a result of research endeavors aimed at enhancing the accuracy of existing body fat estimation formulas, which were initially designed for active military individuals.
While these original formulas were notably accurate for male subjects, the military sought to refine and tailor them further to meet the specific needs of its dynamic and physically demanding environment. The outcome of this research was the Army Friedl Method, an approach that places emphasis on simplicity, accessibility, and accuracy, particularly in the context of active male military personnel.
Understanding the Methodology
The core of the Army Friedl Method lies in the measurement of specific circumferences and the application of gender-specific formulas. By utilizing a simple tape measure, practitioners can obtain measurements of various locations, with specific formulas specifically tailored for each gender to derive an estimate of body fat percentage.
 
 

Neck

17.5"
1.5"
16.75"
0.75"
16.25"
0.25"
16.0"
15.75"
-0.25"
15.25"
-0.75"
14.5"
-1.5"
29.0"
-3.0"
3.01
Essential fat
4.47
Essential fat
5.45
Essential fat
5.94
Essential fat
6.43
Athletes
7.41
Athletes
8.88
Athletes
30.2"
-1.8"
5.36
Essential fat
6.82
Athletes
7.8
Athletes
8.29
Athletes
8.78
Athletes
9.76
Athletes
11.23
Athletes
31.1"
-0.9"
7.12
Athletes
8.59
Athletes
9.57
Athletes
10.06
Athletes
10.55
Athletes
11.52
Athletes
12.99
Athletes
31.7"
-0.3"
8.29
Athletes
9.76
Athletes
10.74
Athletes
11.23
Athletes
11.72
Athletes
12.7
Athletes
14.17
Fitness
32.0"
8.88
Athletes
10.35
Athletes
11.33
Athletes
11.82
Athletes
12.31
Athletes
13.29
Athletes
14.76
Fitness
32.3"
0.3"
9.47
Athletes
10.94
Athletes
11.92
Athletes
12.41
Athletes
12.9
Athletes
13.87
Athletes
15.34
Fitness
32.9"
0.9"
10.64
Athletes
12.11
Athletes
13.09
Athletes
13.58
Athletes
14.07
Fitness
15.05
Fitness
16.52
Fitness
33.8"
1.8"
12.41
Athletes
13.87
Athletes
14.85
Fitness
15.34
Fitness
15.83
Fitness
16.81
Fitness
18.28
Average
35.0"
3.0"
14.76
Fitness
16.22
Fitness
17.2
Fitness
17.69
Fitness
18.18
Average
19.16
Average
20.63
Average
Applicability to Active Individuals:
While the Army Friedl Method was not officially incorporated into military fitness assessments, its roots in research aimed at refining existing formulas for active military personnel make it particularly relevant for individuals engaged in physically demanding activities. Active individuals, especially those with similar profiles to the military population, may find this method to be a valuable tool for estimating body fat percentage in a quick and cost-effective manner.
It's important to note that the method's focus on simplicity and ease of application makes it suitable for scenarios where more advanced equipment may not be readily available. As such, the Army Friedl Method stands as a pragmatic solution for field conditions and scenarios where a rapid assessment of body fat is required.
| | | | |
| --- | --- | --- | --- |
| Based On | Weight | Tape Measure | Skinfold |
| Measurement Complexity | Very Easy | Easy | Difficult |
| Accuracy/Precision | Low | Medium | High |
| Best Suited For | Non-Active Person | Active Enthusiast | Athlete |
Conclusion
The Army Friedl Method, born out of a commitment to precision and accuracy in military fitness assessment, provides a specialized approach to estimating body fat percentage. While not officially integrated into military protocols, its roots in research and its tailored formulas for active male individuals make it a noteworthy method for those engaged in physically demanding activities. As we continue to explore and refine body fat estimation techniques, the Army Friedl Method stands as a testament to the ongoing pursuit of excellence in assessing and optimizing the health and performance of military personnel and active individuals alike.
Measurement Help
Neck
How to measure
Smallest measurement just below the adams apple
Tape measure should be sloping slightly downwards
Abdomen
Body Position
Same setup as waist measurement
How to measure
Specific location right at your naval (not above or below)