The first tool to scientifically manage your body and muscle composition.
Watch your body sculpt itself to your expectations through our goal oriented analysis.
Compare yourself to the fitness ideals of bodybuilders and Olympians!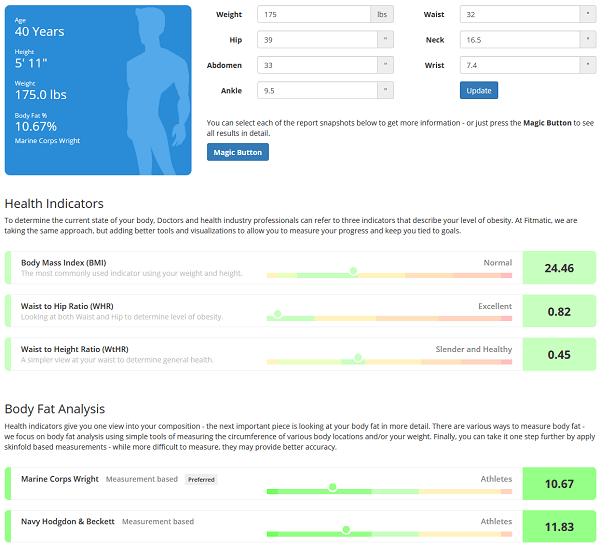 Fitmatic charts
new territory
in the body management sector
Our reports and analysis have improved and corrected long standing perceptions regarding body mass, body fat and true body potential.
We provide unparalleled scientific analysis to assist you in the fastest way to fitness.
In-Depth Analysis just with Weight & Height

Sophisticated Modeling with a full measurement

Detailed Progress visibility after continued measurements

Several Models to estimate Body Fat

Enhance your Fitness Experience
Do what you do today but get in-depth analysis with science supported data.
Set

Select your
goals and focus

Track

Take initial measurements
and review our conclusions

Compare

Compare yourself to the
community and body standards.

Repeat

Continue on your
path and add more ...

Explore Our Platform
Health Management can be easy, intelligent and effective.
Sign Up